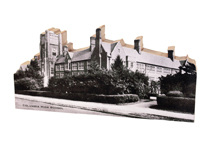 Well this is interesting. A company in rural Pennsylvania called Firefly Landing appears to be in the business of making nothing but wood blocks die-cut in the shape of the schools and buildings of Maplewood, New Jersey. Talk about targeted marketing!
According to the site, "The vintage images are digitally printed, mounted to maple hardwood blocks, stencil-cut, and finish-coated.  Perfectly sized for display on desktop, bookshelf, or window sill."
All of the Betelle schools are represented here in glorious 3D wooden-extrusion. The images seem to be taken from vintage postcards as best I can tell from the small images (there would be words if they took any of my photos…).  Marshall looks pretty good, but South Orange Middle, well, the less said the better (as is always the case with the "Pink Palace").
I'm not sure who would actually want to purchase one of these, but I suppose the folk(s) at Firefly are Maplewood expats, so I wish them well in the endeavor.