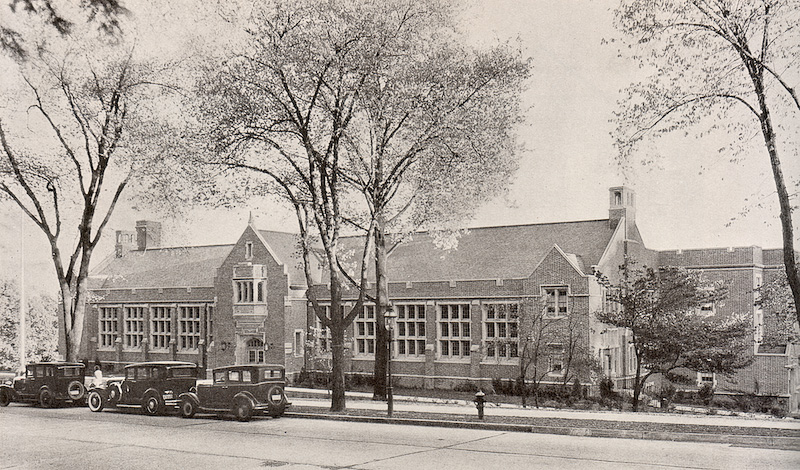 South Mountain School in South Orange, New Jersey, was the last of the original slate of grade schools to be built for the South Orange-Maplewood School District by Guilbert & Betelle. Originally called The Wyoming Avenue School, it was completed in February, 1930. There is frustratingly little historical information about it, relative to the other schools that were constructed at the time.
These images are from the May, 1932 issue of Architecture magazine, from The Trend in School Building Design, an article by Betelle profiling many of Guilbert & Betelle recent work. It features a period photograph of the school and plans of the first and second floor (the basement is not shown).
SMS is situated on South Orange Avenue, a very busy main road; there would never be cars parked along there today. SMS now has two additions flanking either end of the structure, which luckily have done little to mar the original school plan. SMS is a small school, and has a lovely symmetry; the Auditorium and Gymnasium flanking the front hallway creates the two "wings" flanking the central entry tower.
Each classroom was designed with its own little coat room, which I recall well from my time there. Many of them remain. It is lucky, as a 1970 School Board Survey by Englehardt and Englehardt recommended,
"Regular classrooms are chopped up by coat closets. If the closets were removed, there would be far more instructional space. Some pairs of rooms could also be opened up together. Doors to classrooms might be rehung and coats stored adjacent to them in recesses."
There was an extreme drop-off of grade-school age population in the 70's (The Fielding and Montrose schools were closed), so it's likely this and other recommendations were seen as needless modifications. Luckily.
I recently revisted and toured the school. Many original details remain, but many are gone, replaced to meet code (like ugly blue metal firedoors) or just good old fashioned neglect. Here are some images.