The April, 1915 issue of The School-Arts Magazine ("For Those Interested in Drawing & Handicraft") ran a flowery piece, "Something Beautiful", extolling the "rhythmic and refined" qualities of the Ridge Street School and Newark Normal School. Preceding the glowing praise are quotes from Ralph Adams Cram, "architect of some of the finest Gothic churches in America" (and notably the campus of Princeton University). Edited portions below.
~~
Everybody knows of the work of Ralph Adams Cramm [sic]. Having made one reputation as the architect of some of the finest Gothic churches in America, he is now making another as the architect of some of the finest polychromatic structures in America, the buildings of the Rice Institute at Houston, Texas. But not so many people know of Mr. Cramm's literary productions. Here is a quotation from his "Ministry of Art":
"Art may no longer remain 'cribbed, cabined, and confined' in the private possession of those who can pay its price: as it is the language of the people, so must it become their free possession. Architecture has always been for all men, for none could hide its light—or darkness, perhaps—under a bushel; but all the other arts must come forth into the open, and in the church, the school, the public buildings of city and state, offer themselves and their wide beneficence to all humanity."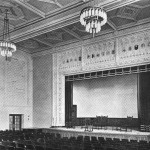 Those who had charge of the building of the Ridge School, and of the State Normal School, Newark, N. J., evidently agreed with Mr. Cramm as to the influence of good architecture, and secured architects who could produce it. The initial illustration shows the inviting entrance to the Ridge School. How rhythmic it is! Three stories high, the features of each are in a triple group: steps, columns, arches; tablet, windows, transoms; lunnettes, ornaments, crown. Then, reading horizontally; the features are in threes again: three entrance arches, three windows, three groups of ornament. How refined it all is! "Nothing too much" as the Greeks used to say.
The other shows the stage in the Auditorium of the State Normal School, Newark, N. J. Again notice the rhythmic sub-divisions into thirds both ways. Notice also that all the prominent lines are vertical and horizontal. The result is a design refined and rich yet unobtrusive, as the frame for a stage should be. Guilbert & Betelle, of Newark, N. J., were the architects to whom our thanks and congratulations are due for adding to the beauty of the world.